Chatbot marketing has become a popular tool for businesses to automate customer service and engagement. Chatbase is an AI chatbot builder that allows users to build, train, and embed smart chatbots powered by ChatGPT on their website. With its user-friendly interface, anyone can create a customized chatbot in just a few clicks.
Chatbots are increasingly becoming an essential tool in businesses for customer engagement and support. Chatbase is a powerful platform that allows you to build and train an intelligent chatbot easily. With the integration of ChatGPT, it provides advanced conversational AI capabilities that can help you create more natural and intuitive conversations with customers.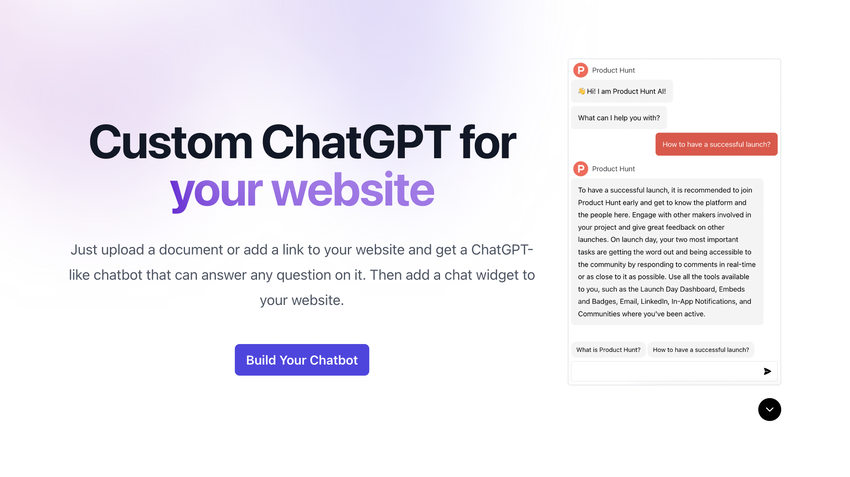 Chatbase Use Cases
Chatbase is its ability to leverage both online and offline data to improve your chatbot's performance. The platform enables you to analyze user conversations across different channels. This way, you can identify areas where your chatbot needs improvement or understand how users interact with it better.
Quickly train your chatbot and embed it on your website
Chatbots are becoming increasingly popular in the field of customer service, and for good reason. They provide businesses with a quick and easy way to answer common questions and provide assistance to customers without the need for human intervention. However, like any AI technology, chatbots require training to be effective.
With Chatbase Lifetime deal, businesses can quickly train their chatbot with any online or offline data. This means they can integrate existing information such as FAQs or product manuals into the chatbot's database to improve its accuracy and effectiveness. Additionally, Chatbase offers an easy-to-use interface that allows users to refine and optimize their chatbot's responses over time.
Once trained, businesses can embed their chatbot on their website as an iframe or support widget. This provides customers with immediate access to assistance while also reducing the workload of customer service representatives. Overall, Chatbase is a powerful tool that helps businesses improve their customer service offerings through the use of AI-powered chatbots.
Create an intelligent ChatGPT like chatbot
With Chatbase, you can create an intelligent chatbot that matches your brand's personality in just seconds. This means that you no longer have to spend hours designing and developing a chatbot from scratch; instead, you can use Chatbase to quickly create one that will represent your brand well and effectively engage your customers.
The secret behind Chatbase's success lies in its ability to analyze customer interactions and learn from them over time. This means that the more people interact with your chatbot, the more intelligent it becomes – allowing it to provide better responses and reflect your brand even more accurately. Overall, if you're looking for an easy way to create a high-quality chatbot for your business, then Chatbase is definitely worth considering. 
Key Features
Lifetime access to Chatbase
All future Growth Plan updates
Only for new Chatbase users who do not have existing accounts
60 day money-back guarantee.
Embed on unlimited websites
Multiple files upload
API access
Chatbase Lifetime deal Pricing
At this moment, Chatbase is offering One-time purchase of $29. With Chatbase Lifetime deal, businesses can utilize all the features of this powerful tool without worrying about recurring costs. You get access to all the tools needed to create a high-performing chatbot that delivers exceptional customer experiences.
Conclution
Whether you're looking for ways to enhance customer engagement or provide real-time support for your clients, Chatbase is an excellent investment that guarantees results.