SignalZen is a powerful tool that integrates with Slack and Microsoft Teams, allowing you to talk to your website visitors and emails directly from these platforms. With this integration, you can easily manage your conversations in one place and respond quickly to inquiries.
Additionally, SignalZen offers detailed analytics that enable you to track the performance of your conversations in real-time. This data allows you to identify areas where improvements are needed and fine-tune your messaging strategy accordingly. Overall, SignalZen is an excellent addition for any business looking for an efficient way of managing customer communication on Slack or Microsoft Teams.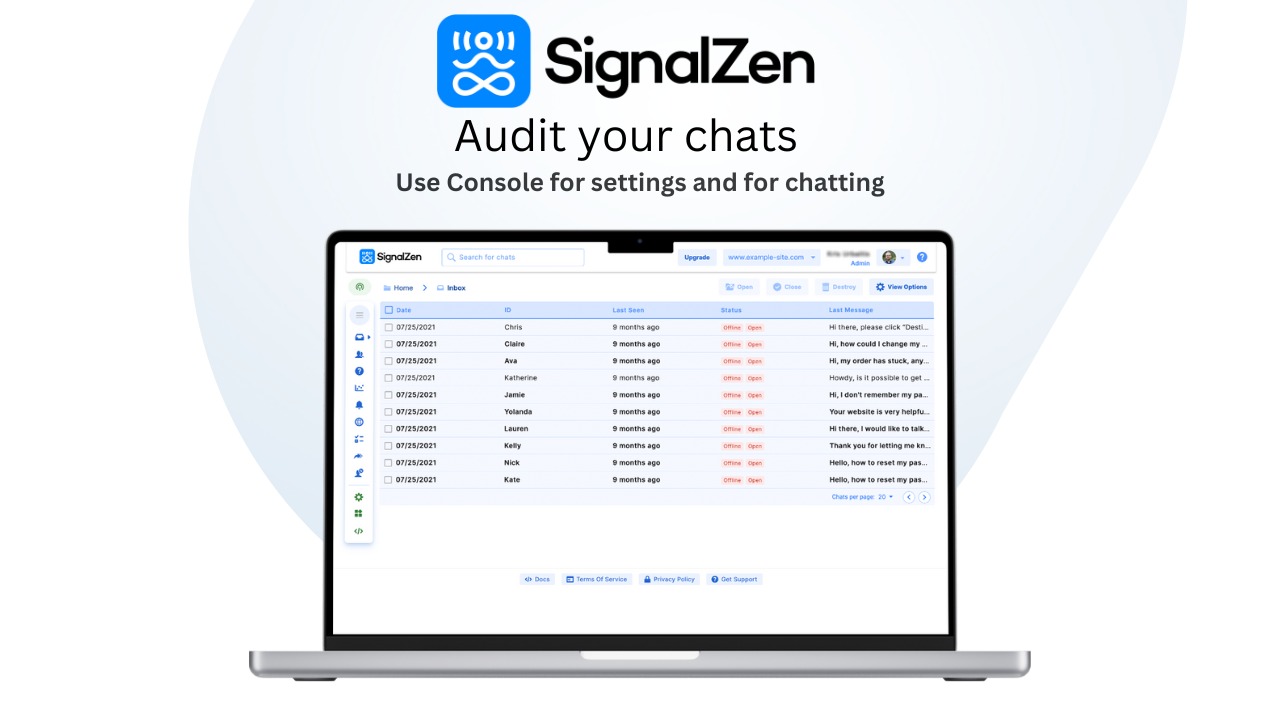 Use Cases of SignalZen
A live chat solution for websites
SignalZen is a live chat solution that makes communication with website visitors easier and more efficient. By integrating with Slack, teams can easily manage multiple conversations at once, respond quickly to inquiries, and collaborate seamlessly. This means that businesses can provide faster responses to their customers' questions or concerns.
One of the benefits of SignalZen is its easy integration with Slack. Users can simply connect their Slack account in order to receive messages from the SignalZen chat widget directly in their Slack channels. This means that all team members who use Slack can be alerted to new chats and respond accordingly, making it simple for everyone on the team to stay in sync.
Integrate by using HTML or JavaScript code snippet or SignalZen
SignalZen is a powerful platform for businesses that aim to improve their customer engagement experience. The platform offers multiple options for integration, making it easier for users to incorporate SignalZen into their existing website or content management system. One of the most popular integration methods is using HTML JavaScript code snippets. Users can easily insert the code snippet in their website's header or footer section and start using SignalZen almost instantly.
In addition to HTML JavaScript code snippets, SignalZen also provides native plugins for major content management systems such as WordPress, Joomla, Drupal, and Shopify. These plugins are specially designed to work seamlessly with these CMS platforms and offer users a more streamlined integration process. With these plugins, users can enjoy all of the features and benefits of SignalZen without having to write any custom code or hire a developer.
Overall, with its multiple integration options, SignalZen makes it easy for businesses of all sizes and types to leverage its powerful capabilities to enhance their customer engagement efforts. Whether you're using an existing CMS platform or building a custom website from scratch, integrating SignalZen into your workflow has never been easier. 
Price of SignalZen Lifetime deal
SignalZen is offering One-time purchase of $99 for a limited time. This lifetime deal offers a great opportunity for businesses that want to improve their customer communication.
Key Features
Unlimited chats
Unlimited bandwidth
Premium support
Up to 1 subdomain
Up to 5 operators
Lifetime access to SignalZen Plan
All future SignalZen Plan updates
60 day money-back guarantee
Final Words
With SignalZen tool businesses can now seamlessly communicate with their website visitors and email contacts directly from Slack and Microsoft Teams. SignalZen offers the ability to customize chat widgets on websites to fit branding needs, making it easy for customers to reach out and ask questions. Additionally, the platform includes a chatbot feature that can help handle common inquiries and free up time for customer support teams.